Joe, got through the Tuesday, Afghanistan News Conference. His Presidency is not going up in flames on Afghanistan. He got 75,000 out of the country in August using one airport.
He pulled in the perfect person, William Burns, to meet with the Taliban Leader, Abdul Ghani Baradar. Burns is a respected practical diplomat with a huge reservoir of respect in the Congress, Internationally, and in the Foreign Policy Establishment.
Using Burns, now CIA Director, to meet face to face with the Taliban Leader was a master stroke. The Taliban had to know they were getting a sit down with one of our best who knew all the secrets going back to before 9-11.
Plus, how could the FOX "Uber Patriots" object to a meeting? One of their favorites, Trump Secretary of State, Mike Pompeo, seemed happy as a clam to be in the Good Mullah's presence.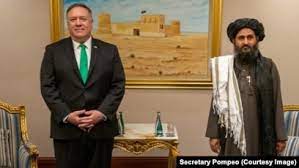 Joe's day was made better by Speaker, Nancy Pelosi, who put out a troublesome rebellion by some Democrats threatening to gum up Joe's infrastructure agenda. The Rebellious Nine saw the light and Nancy won a key vote with all Ds on board.
As is Nancy's custom, she didn't gloat or claim credit. She's going to need those votes tomorrow and the day after. Joe delayed his Afghanistan News Conference until he had the good news from the House. Thanks to Nancy, Joe had a winning day.
Sometimes, that's all a President can hope for. Win the Day and then win the next one…
Comments are welcome at tomc[at]wednesdayswars[dot]com. Comments will be addressed in subsequent posts.